A 450 twist on one of our popular annual events.
As part of Weymouth's 450 celebrations we bring you our All Hallows' Hoolie.
We have 100 free pumpkins to be carved and displayed.
As darkness falls they will be lit and displayed along the pathway.
Prizes awarded to the three best carved pumpkins.
Once the free pumpkins have gone, they've gone.
Please note this year there will be a queuing system to allocate one pumpkin per child and a carving station with tools to work at.
We do ask that parents supervise their children at all times while carving.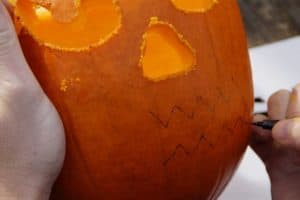 Having to wait your turn?
No problem, to keep you entertained we have an amazing Awareness and Discovery trail to follow and have fun with, run by the wonderful folk of the Leonard Cheshire organisation.
Lots of things to discover.
And if in this drawing in of nights, you're feeling crafty or bored, we're also looking for ladies (or men) of the knitting (crochet or sewing) needles to create some Hoolie ghoolie creatures for this event.
If you're up for that get in touch with Tracy for further details and some patterns on;
Phone 01305 213 815
Mobile 7554 454 649
E-mail tracy.baker@leonardcheshire.org
The inimitable Jon Orrell will be returning with his fantastic press, so bring along your apples, picked and fallers, they all go in, and don't forget  containers to take away your scrumptious golden juice.
That is if you haven't already drunk it there and then.
And the 450 twist?
If you know your local history our present day historic town was in fact two VERY separate towns!
Old Weymouth straddled alongside the waters edge over on the Nothe side of the harbour.
Their arch enemies, Melcombe Regis, faced them from the sandy side.
Fiercely rivalry between these two over who received the monies from harbour dues, which side the sailing vessels berthed, many were ambushed on entry, threats of murder and mayhem, even a touch of imprisonment, ended with a very frustrated Queen Elizabeth I.
She finally declared that they should build a bridge across the harbour and become as one.
Which they (sort of) did in 1571.
So you pick your side of the harbour (path) to display your pumpkin.
Are you for Weymouth… or Melcombe Regis?
They'll be lit as darkness falls to create a light spectacular, added to by twinkling illuminations in the surrounding trees and bushes.
It's also a chance to also come see our Heritage Tent with some old photos, maybe leave memories of Radipole park and gardens of your own, and chat to us about our exciting future plans for the park and gardens.
*********
are supported by the Lottery