Celebrations; Brass Band Music Rocked Out Again in Radipole Gardens
Brass band music…nothing quite like it to get the old toes tapping.
After such a long time it was great to get ready for an event in Radipole gardens again.
Even then it wasn't plain sailing!
Covid rules…would they be changed again between the organisation of and the actual event?
Weather…would the torrential rain and thunder storms hovering on all the forecasts force us to pull the plug.
Volunteers…fingers crossed not too much 'pinging' took place. (Now if that isn't a new phrase to enter the Oxford English Dictionary out of this I don't know what will.)
As it was the day dawned dry if not exactly wall to wall sunshine.
At noon all volunteers were down in the park eagerly erecting gazebos, collecting chairs, hanging bunting, setting out displays.
Lots to do.
Finally, it was all systems go.
Weymouth's talented Concert Brass Band arrived complete with their medley of instruments and music sheets to set up shop, ready to entertain audiences once more in our beautiful gardens.
Friends volunteers were kept busy in the Heritage tent showing and talking to folk about our plans for the up and coming Lottery and sensory garden works.
So what if maybe that audience wasn't as big as usual for this popular annual musical event, but those who did come along and set out their chairs and picnic rugs thoroughly enjoyed an afternoons free entertainment and went away very happy that the Friends were once more holding events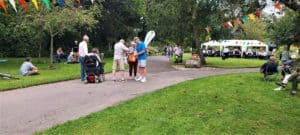 As one lady told us 'it was her first time out and about and it was so nice to feel normal again.'
Never was a truer word spoken.
*********
Keep your eyes peeled for details of our Halloween event…we have something wickedly different up our sleeves this year!
(Cackles)
are being supported by